KEY FEATURES
Basic
2.4 GHz 6-channel remote control
Up to 5kg bait capacity / Volume total 5 Liter ( 2.5 liters per hopper )
Standard 2 Li-ion battery (12000 mah /12v) provide more than 6.5hours running time at max speed (optional)
Total weight 7.0kg (with batteries & without lure)
R/C Range 500m to 1000m, depending upon environmental conditions
Dimenslons 70cm*44cm*27cm
Special weeds protection
Failsafe-system as standard
Two separately controllable hopper releaseing
Non-wearing and easy-to-use magnetic pin hook releasing system
High performance industrial engines
SONAR/GPS/Autopilot pre-designed. Easy Plug and Play without demaging the body
State of the art elctronic control system provide top reliability even under the toughest conditions
Special handle design with rubber protection providing comforatble grabing
Unique shape design make the boat apperance attractive and remarkable
High reliability
1.The innovative DSS (double seal system) technology, instead of single oil sealing, provides the most safe shaft sealing.


2.Heavy load hopper system use unique Sensor-less position control technique, always open close to correction position during all lifetime of the boat. The two specially designed hopper were made with 0.8mm stainless plate, provide a 32kg*cm torque


Easy to maintain
1.All control system were designed into 2 boxes. No complex and disorganized wiring with PCB.
2.The CCU (Central Control Unit) box control Hoppers/Hook Release/Battery Monitor/Front light/Tail light/additional two channel OC output
3.Another ESC(Electronic Speed Control) box control two motor propellers/smart power switch/water switch
4.For every possible kinds of electronic problem, just replacing the boxes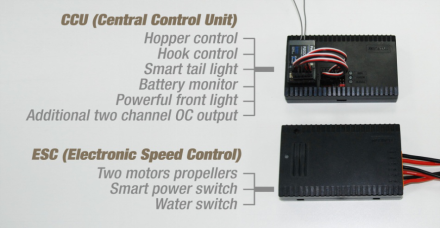 Intelligent
1.Smart Front Light (Unique !)
(1).The 2 front light were designed with 2*30pcs small white LED and 2*1.5w high brightness LED ( switchable via the remote control independently). The dazzling light can clearly guide you the direction of boat no matter using day or night.

2.Smart Power Switch (Unique !)
(1).Designed with a breathing LED. Push On/Push Off.


3.Battery Monitor (Unique !)
(1).The tail light will start blinking slowly if the battery energy is lower than 30%. The lower the battery energy is, the faster the tail light blink.